2022 Emerging Internal Audit Leader Award Recipient
Name: Lisa Berriman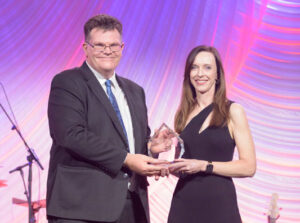 Professional role: Manager – Assurance, Brisbane Catholic Education
How did you feel when you won the Award?
I was and still am chuffed to receive national recognition by the IIA-Australia and to be recognised by my Executive Director. It was quite extraordinary to win a national award. It really is amazing to receive this recognition after almost 10 years of study and hard work. But it also made me pause and realise that an award is never just about one person. BCE's Assurance function has really moved forward with the support of the Executive and Leadership Teams and my esteemed Assurance colleague.
What have you done since receiving the Award?
Since receiving, my organisation shared the achievement with our 12,000 employees. It really elevated our profile within the organisation with more staff gaining a deeper understanding of our work. I'm also excited to share that I recently applied and was accepted as a Councillor with the Queensland Chapter. I'm looking forward to contributing to our profession with the IIA and as someone passionate about internal audit, it's another opportunity for me to engage in conversations about our field.
What do you love most about your job?
What I truly love about my job is its incredible breadth, allowing me to engage with every corner of our organisation, as well as the depth of understanding that comes with each review. Few roles offer the same perspective. It really hits home when you witness the implementation of review recommendations, and see the significant impact it has on the organisation. It's a privilege to act as a catalyst for continuous improvement.
What has been your biggest challenge in the past 12 months
Over the past 12 months, my most significant challenge was striking a harmonious balance between the demands of my studies, my professional commitments, and my family life. Recently, I successfully completed a Graduate Diploma in Corporate Governance and Risk Management, and I must admit, the juggling was no easy feat. However, I love the learning and with the Grad Dip aligned to my role, it made it incredibly rewarding.
What are your goals for the coming 12 months?
I've embarked on an exciting journey engaging in a mentoring program, which was a part of the IIA-Australia award. It's an invaluable opportunity to glean wisdom and insights from an extraordinary leader in the internal audit world. Looking ahead to the next 12 months, one of my top goals is to get involved with the board of a non-profit organisation to support their positive impact within our community.
What do you like to do in your spare time?
Outside of work, my life is centred around my family. I spend lots of time with my daughter's amazing 2-year-old and 1-year-old who are undoubtedly adorable. Our family also includes our two puppies. Our 15-month-old Labradoodle and 9-week-old Irishoodle keep us entertained with their antics.