2022 Internal Auditor of the Year Award Recipient
Name: Anthony Robinson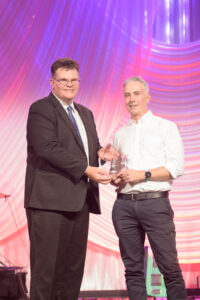 Professional role: Corporate Assurance Lead, Legal Services, Penrith City Council
Can you please tell us first about your current role?
My current role of Corporate Assurance Lead encompasses assurance more broadly and includes responsibility for risk management, business continuity, legislative compliance and insurance/claims. There can be some conflicts arising with my internal audit responsibilities, but we are generally able to manage these through various safeguards. I am also lucky enough to have a highly skilled and ethical Senior Internal Auditor reporting to me.
How did you feel when you won the Award?
It was a very proud moment for me , definitely a high point in my career. I was completely blown away and it made for a fantastic night at SOPAC.
What have you done since receiving the Award?
I have received lots of messages of congratulations from colleagues, friends and family. There was a piece about my award in the Council newsletter. The Penrith City Council Mayor presented me with a Mayoral Minute at The Ordinary Council Meeting, which was a real honour.
Also, I am a member of a Local Government Internal Audit group and they asked me to do a presentation on the background of the award. I was subsequently nominated to join the network board, so I am now much more involved in the group.
What do you love most about your job?
The team and culture we have created is something of which we are all very proud. I love creating new systems and processes, tinkering with spreadsheets and creating new tools.
I also really enjoy mentoring the staff that report to me and debating the findings we reach during the course of our work. I get to work with a wide range of staff across the organisation, so I meet so many people and understand how each department works as a segment of the whole.
What has been your biggest challenge in the past 12 months?
Like many organisations, staffing issues have been a concern. Not having everyone we need onboard at all times, has created some challenges in our ability to deliver on the plan for the year. We have spent a lot of time working with the Audit Committee and senior management to ensure we keep our plans on track. We were also very fortunate that a former team member came back to the group after spending some time in a different organisation. So I am confident we continue will deliver on our objectives.
What are your goals for the coming 12?
The main goal is to ensure our audit program remains on track and that I hit my targets for the next year. We have created a new position to provide some more support, so we want to make sure we give that person the best opportunity to do the best they can.
I also want to obtain my external assessment and achieve general conformance with the IIA Standards.
When you're not conduction internal audits, what is you love to do?
I am an avid runner and love fitness in general. I have done a number of marathons, including a the 90 km Comrades Marathon in South Africa. For total escapism I play Dungeons and Dragons and get out to music and live shows.
The nomination period is now open for the 2023 National IIA-Australia Awards. 
Internal Auditor of the Year Award
Emerging Internal Audit Leader Award
Internal Audit Team of the Year Award
Submissions close on 30 November 2023. Learn more about the IIA-Australia awards and how to nominate, here.